50W Professional FM Broadcast Transmitter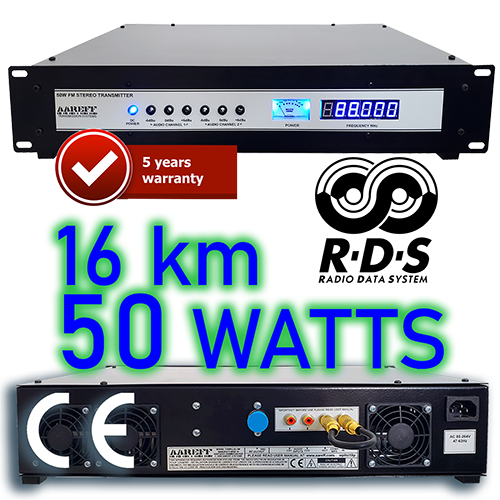 Suitability
This transmitter is the little brother to our 100 watt transmitter. Using a 150W transistor only running at 50 watts gives it reliability and dependability beyond all imagination. This transmitter is available as a super silent version, see below for details.
Which Version Do You Need?
The stereo version with audio processing and limiting is available or the straight raw composite MPX version. If you're not sure which version you need, then it's a high probability that need the stereo version with audio processing and limiting. In any case the stereo version has the option of MPX input, it can be used for both. If you wish to connect the unit to external processing such as Optimod, Inovonics, Breakaway, StereoTool etc you should use the MPX version More Information HERE.
RDS - Radio Data System
As an optional extra this transmitter is available with dynamic and programable RDS fitted. If you want RDS option please ADD TO CART above
5 YEARS LIMITED WARRANTY

MORE INFORMATION
Super Silent Version
What is SUPER SILENT? it means it's as quiet as a mouse and can use it in a live mic studio without background noise. Check the video demonstration. If you want SUPER SILENT option, ADD TO CART here.

Reliability
This transmitter uses a 150 watt mosfet device in it's output only running at 50 watts, this makes it HYPER reliable, it's like a Ferrari on tick over. It will never break and it will handle any amount of antenna faults, high VSWR or reflected power.
Construction
The enclosure is made in strong 16 gauge steel, powder coated and baked in satin black. This leaves a tough, durable surface that will never rot or corrode and be cleaned to shine for decades. The front panel is 19 inch across and 2U (3.5 inch) high with a depth of 12 inches, so it will fit with ease into a standard rack. It is very strong and difficult to damage even under extreme handling.
Configuration
When we test this unit we need to test it at some frequency, it's obviously better if we test it at the frequency you want to us it on, then you can use it straight out of the box on delivery. But if you don't know the frequency, that's okay, the frequency, FM deviation and power is easy to set in a few minutes on the underside panel controls.
Compliance
The stereo version with audio processing and limiting meets all the regulatory standards required out of the box and pre configured. In fact if you send us a copy of your permit and it's conditions, we will set it up exactly to the specification. This equipment complies with EU/CE harmonised standards and FCC technical requirements for FM broadcasting. More information HERE
RF Specification
All stated measurements were made at 220VAC at 27 Deg. Celsius ambient temperature unless stated.
| | |
| --- | --- |
| Power Output | Adj. 1-50 Watts into 50 ohms |
| Spurious Emissions | Less than -75 dB ref to carrier |
| Harmonic Emissions | Less than -70 dB ref to carrier |
| Freq Stability | +/- 1 KHz max. typ. +/-300 Hz |
| Deviation Sensitivity Stability | +/-2 % max |
| Freq Fine Adj | > +/- 1000 Hz |
| Freq Range | 87.5 to 108 MHz in 100 KHz steps |
| Out of Lock RF Muting | Less than -70 dB ref to carrier |
| Residual AM | Less than 0.5 % |
| Synchronous AM | Less than 0.5 % |
| RF Ruggedness | Any VSWR phase or length of time |
| Output Connector | N-Female |
| Operating Temp | -20 to +40 Deg C |
AF Specification
| | |
| --- | --- |
| Pre-emphasis | (50 uS/ 75 uS/ None) Selectable |
| Audio Input Connector | Phono/ RCA type unbalanced sockets |
| Audio Input Sensitivity | +4 dBu for +/- 75 KHz dev. |
| | | |
| --- | --- | --- |
| Version | MPX | Stereo and Audio Processor |
| Signal To Noise Ratio | 80dB | 65dB |
| Frequency Response | 30Hz-76KHz | 30Hz-15KHz |
| Audio Distortion | 0.2% THD Max | 0.2% THD Max (at MPX section) |
AC Specification
| | |
| --- | --- |
| Input Voltage | 90-264 V AC 135-370 V DC 47-63 Hz |
| Input Power | 95W for 50W RF OUT with RF SWR less than 1.5 |
| Working Humidity | 20-90% RH non-condensing |
| Safety Standards | UL60950-1 TUV EN60950-1 BSMI CNS14336 CCC GB4943 J60950-1 approved |
| EMC Emission | Compliance to EN55022 class B EN61000-3-2 3 FCC PART 15 / CISPR22 class B CNS13438 class B GB17625.1 |
| EMC Immunity | Compliance to EN61000-4-2 3 4 5 6 8 11 light industry level criteria A |
0.0393199920654