Veronica&reg Aareff
2000W (2kW) ERP FM
Broadcasting System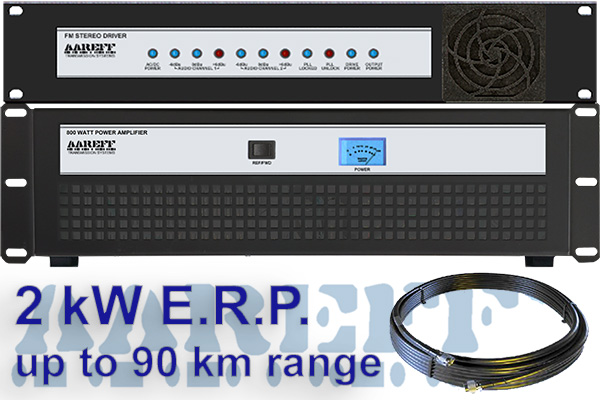 System Package Contents
19" Peak Limiter with Audio Processor and 1W Stereo Exciter
19" 800W Amplifier
20 Meter Antenna Cable
5/8 Antenna (+4.8dBi Gain)
All Interconnecting Cables
Antenna Mounting Brackets
Simple Set Up
Instructions are supplied to show the station engineer how to set this system to any frequency from 87.5 - 108.0 MHz. However, when we assemble this system we have to test and set it to some frequency, please select the frequency in price panel above that you would like it set to on delivery.
Two Year Warranty
This FM transmitter system along with all our other products comes with a limited 2 year warranty (see warranty conditions)
2000 Watts (2kW) Effective Radiated Power
Our 5/8 antenna along with 20 metres of LMR400 with the 800W transmitter will produce 2000W ERP. This is enough power to project the signal over 90 km if the antenna is mounted in a high position.
Everything You Need
The system is simple and includes everything you need to get the FM transmission side of things operational. You just need to provide a suitable tower, mast or strong pole to put the antenna on, standard line audio from your studio or STL, electricity, a building and finally great radio DJs and presenters.
Stereo with Peak Limiter with Audio Processor
This bold looking 3U 19 inch unit is made to last. Constructed from steel and power coated in black, it's here to stay. The internal boards and modules are no exception. Driven by the world renowned Veronica&reg PLL board to give super low noise and RF stable performance. The Veronica&reg PLL is further amplified up to 4W and then up to 800W. The limiter and stereo coder can be completely disabled if you want to use an external processor such as Orban, Inovonics or PC generated MPX/RDS. This unit complies with European standards ETS 300384 for R&TTE, EN 301 489-11 for EMC and (LVD) 2006/95/EC for safety.
800W Watt Amplifier
This is actually a 1KW amplifier, but we back it off to 800W to ensure super reliability. The 800W produced will operate with ease at full power 24 hours a day non stop in any country and with any AC voltage in the world. The amplifier has a neat little meter on the front panel lit up with intense blue LED's to indicate forward and reflected power. The amplifier is fully protected from poor SWR and return loss of level for any duration of time.
20 Meter Antenna Cable
20 Meter Antenna Cable - This cable is high quality foam and carries the radio signal 20 meters to the antenna, this would normally be used for stations with towers, or masts of up to 15 meters in height.
5/8 Antenna (+4.8dB Gain)
The 5/8 is a formidable antenna that multiplies the power from the antenna cable by 2.9 times towards the horizon making sure maximum signal is efficiently put in the right place and not wasted into space or ground.
21 Years, Still Here
Over the last 21 years in Africa and Middle East alone we sold our systems into Congo, Uganda, Liberia, Zambia, Yemen, Rep South Africa, Oman, United Arab Emirates, Tanzania, Southern Sudan, Kenya, Ghana, Gambia, Nigeria and Niger. Our transmitters are the best in very hot climates as they handle the heat and the dust very well under 24/7 operation.
We are Passionate
When we designing any product, we try to think of everything, every possible fault condition and every type of customer. Over 21 years, we have seen it all. The new 800W transmitter and amplifier can handle the worst conditions at high power. A product and design we are very proud of.
We are primarily engineers with a passion for radio, not sales people. If you have any technical questions please feel free to email us.